WHAT IS ON OFFER TO EVERYONE ......IF YOU LIVE THERE AND WOULD LIKE A DAY OUT AND SEE WHAT THE ISLAND HAS TO OFFER OR YOU HAVE A CELEBRATION OR JUST GET TOGETHER LOOK NO FURTHER I CAN BOOK IT ALL .....
TRIPS & TOURS I have been on and
I CAN PRE BOOK FOR YOU (all prices are just a guide )
NICOSIA TOUR
Price From = £20.00 per person
Includes: Free drinks at Saray Hotel, Museum entrance fees, English speaking guide
Pick up from hotels: 09:00 - 09:30Return to hotels: 14:00 - 14:30 Nicosia still retains its old beauty and character with narrow roads and blend of cultures. Sites that we shall visit include Walls of Nicosia, Selimiye Mosque (St. Sophia Cathedral), closed Grand Bazaar (Bandabuliya) and Great Inn (Buyuk Han) of the capital.
KARPAS PENISULA
Price From = £35 per person
Includes: Lunch (excluding drinks), Museum entrance fees, English speaking guide
Pick up from hotels: 09:00 - 09:30Return to hotels: 18:30 - 19:00
If you only have limited free time and you can only take one excursion we recommend that you take this one. This peninsula is definitely the best part of North Cyprus yet to be explored by many. Your tour will include a visit to Bogaz fishing village, 5th century church of Ayia Trias (Sipahi) followed by lunch at a village tavern with a selection of typical Cypriot food. After lunch you will be taken further to Dipkarpaz village and Apostolos Andreas Monastery. You will have the opportunity to see some wild donkey?s , local fauna and flora and more importantly,
subject to weather conditions, swim at one of the wonderful beaches.
BOAT TOUR
Price From = £23.00 per person
Includes: Lunch (excluding drinks)
Pick up from hotels: 09:00 - 10:00
Return to hotels: 16:30 - 17:00
If you fancy a little adventure, you should consider the special daily cruise from Kyrenia Harbour to discover the beauty and mystery of the island from the sea.
We set sail towards the famous Escape beach (East) or Acapulco beach (West) according to weather conditions. On our way we stop for a refreshing swim, arriving at our destination around noon. The anchor is dropped and you have a quick dip before an open buffet lunch on board. After lunch you can swim in the crystal clear waters. Late in the afternoon we leave for a leisurely cruise back to Kyrenia Harbour.
FAMAGUSTA TOUR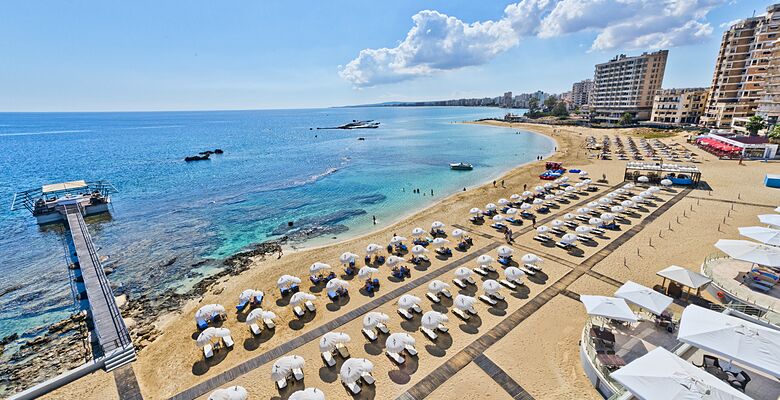 Price From = £35.00 per person
Includes: Lunch (excluding drinks), Museum entrance fees, English speaking guide
Pick up from hotels: 09:00 - 09:30Return to hotels: 17:30 - 18:00
In this tour you will visit the famous Famagusta old city walls, St Nicolas cathedral and Othello's Tower where Shakespeare was inspired to write his famous play
(built in the 12th century during the Lusignan period).
After lunch we will visit the ancient Roman city of Salamis which dates back to BC times and then continue to the monastery of St Barnabas
with its famous "room of icons".
BELLAPAIS & ST. HILARION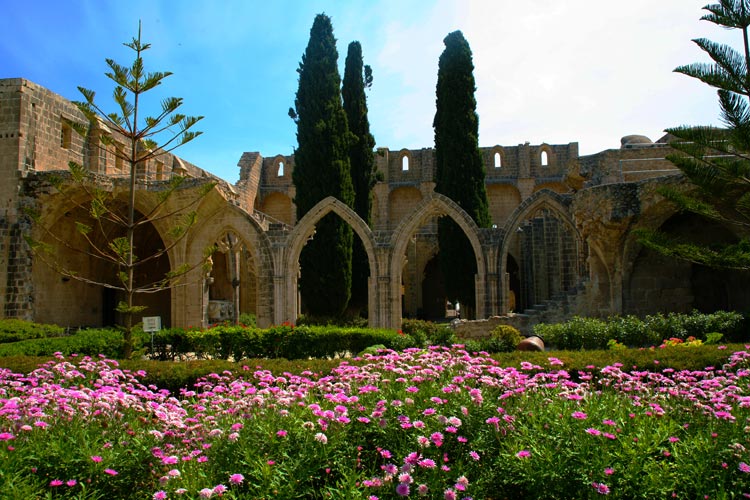 Price From = £20.00 per person half day
Includes: Museum entrance fees, English speaking guide
In this half day tour you will have the opportunity to visit the ruins of the castle
which was said to have inspired Walt Disney's Sleeping Beauty,
the St. Hilarion Castle,and to enjoy fabulous views of Kyrenia's coastline from its top. This is followed by a visit to Bellapais village where Lawrence Durrel wrote his famous book "Bitter Lemons". The village itself is also now very famous as it occupies a wonderfully scenic spot on the foothills of Five Finger Mountain
range. Bellapais Abbey is also regarded as a masterpiece of Gothic art
FROM THE SOUTH KYRENIA TOURS
Prices from £35 per person
cross the boarder visiting the beautiful harbour of Kyrenia followed by a visit to Bellapais village
GUZELYURT
Price From = £30.00 per person
Includes: Lunch (excluding drinks) Museum entrance fees, English speaking guide
Pick up from hotels: 09:00 - 09:30Return to hotels: 16:00 - 16:30
This tour takes in the ancient sites of Soli Ruins and the ruins of Vouni Palace.
The 137 room Vouni Palace was built on a hilltop
by the phoenician propersian king of the neighbouring city Marion
to watch over the pro-greek city of Soli,
following an unsuccessful revolt of the latter against the persian in 498BC.
Finally we shall visit the interesting St Mamas Monastery
and archaeological museum in Guzelyurt.
St Mamas is understood to be the patron saint of tax evaders!
Limassol Tour
Price From = £20.00 per person
See the Rock of Aphrodite Kourion ? Amphitheatre, House of Eustolious and fantastic mosaicsVisit 12th Century Crusader Castle of KolossiLimassol ? visit one of the island?s largest winery?sChance to taste the wines and to buy a bottle (or two!)Time in Limassol for lunch and shopping
(Time's prices are all just a guide )
Price From = £22.50 per person
Includes: Dinner (excluding drinks) Pick up from hotels: 19:00 - 19:30 Return to hotels: 23:30 - 24:00 Have a wonderful experience. You will start with lots of mezes (traditional Cypriot starters) then served (North)"keleftigo" (lamb cooked in a clay oven). If you are a vegetarian do not panic as most Cypriot food can be adapted for non meat-eaters and easily prepared while you are enjoying your starters.
The entertainment which includes live music, Cyipriot Greek plus traditional folklore dancing and a belly dancer is just the icing on the cake! A fantastic evening!
JEEP SAFARIS
NORTH & SOUTH From £25 per person AJeep Safari in Cyprus is a wonderful opportunity for those who would like a day of lots of exhilarating fun and adventure and a day you will never forget
SEA DIVING Scuba diving
North & South Available everyday
Technical Diving Courses available in Coral Bay and Paphos
One of the Mediterranean?s premier wreck dives is the Zenobia in Larnaca harbour
SCUBA Diving is exciting and invigorating and one of the easiest and safest adventure activities to learn.
Diving will allow you to explore the amazing beauty and mystery of the world.
Whilst Cyprus is one of the best locations to dive in the world for experienced divers,
it is also a superb place for the non diver who wants to dip their head beneath the surface to see
first hand the under water world of Jacques Cousteau, Hans and Lotte Hass.
Prices Per Person From (these are just a Guide)
One Dive Pack - £30 Two Dive Pack - £45
Three Dive Pack - £60 Four Dive Pack - £75
Ten Dive Pack - £160
All are Professional diving courses and are all Padi
Holy Land

1 day trip from £375 per person
Add some thing extra to you holiday 2-3 days
Cruises and Mini-Cruises

to the Holy land
WALKING TOURS
Walking in Cyprus will reveal many hidden charms and miles of inviting and breath taking secenary, paths and plenty of warm sunshine.
Enquire for prices and trips as there are so many on offer through out the year an Island of surprises
Troodos churches
Price From = £22.00 per person
All have variable visiting hours and/or a key-keeper who lives nearby
The Troodos mountains shelter are full of exquisite, frescoed late-Byzantine churches. From outside, with their small rectangular plans and steeply pitched roofs,they give nothing away; inside is a different matter,
More remote, and equally accessible from Larnaca, the Metamórfosi chapel near the top of Palekhóri village is replete with images of lions and rivers in idiosyncratic guises Most lie on the north slope of the mountains, reached more easily from Nicosia,but three churches are easily accessible from Limassol.
Diminutive Ágios Mámas, in the village of Louvarás, has cartoon-ish Life of Christ panels from 1495; Stavrós church,at the edge of Peléndri village, features a complete cycle of the Virgin?s life, painted a century earlier.
Winery tours in the krassohoriá
from Just £35 per person
Prices times would have to be booked at the time
Four amazing-wineries near Limassol?s,predictably and very popular, and a totallyconvenient,venue for a tour with wine sampling. For a less regimented day out, and access to more refined labels,
Cyprus Has it All - Sun, Sea and Attitude
Some times it?s the smallest decisions that can change your life for ever
Life is to short to be sitting around miserable
Nothing is impossible. The word itself says IM POSSIBLE .........
You have 3 choices. You can give up , give in, or give it your all
it is your dream and you can do it
TO BOOK
CALL 07913304716 OR
Email debbie@designertravel.co.uk